Mandela Month is without doubt one of the most significant periods on the South African Calendar.
We celebrate Nelson Mandela International Day every year to magnify the legacy of a hero who changed the 20th century and played one of the largest roles in shaping the 21st. This is a month for everyone to become more introspective and learn from the values that inspired Nelson Mandela.
Everyone in South Africa is encouraged to donate 67 minutes of their time to doing something kind and selfless and it can be literally anything! From doing a beach clean-up with your kids, donating pre-loved clothes to charities in need/ making some sandwiches (the list goes on). Anything where you choose to spend time on actively paying it forward in honour of Nelson Mandela. This year we have decided to support St Joseph's Home, an institution that cares for children with both physical and mental disabilities and we would love for you to be involved in any way you can. All good deeds are in memory of a man who dedicated his life to philanthropy and humanity to make South Africa a better place. We hope in some small way we can continue this movement of building a rainbow nation that chooses equality and kindness, always.
The time of 67 minutes is in memory of the 67 years of Nelson Mandela's service to the public. This has become a global celebration of his life's contributions towards peace and freedom.
This Mandela Month, Clay Café is running an initiative where we are inviting you to start your 67 minutes at Clay Cafe. Let your creative side flow in painting an item where 15% of proceeds to go to St Joseph's. (*this is on select items only)
How Can You Get Involved This Mandela Month
Head to Clay Café in the city (199 Bree street) during Mandela Month and paint an item, 15% of sales of select items sold will be donated to St Joseph's Home in Montana, Cape Town.
Guests may choose from variety of pre-selected bisque Items in-store to paint and decorate. We have fun Mandela stencils too that can be used to create your unique masterpiece. A beautiful start to your 67 mins in honour on Mandela month. Thank you for choosing to be part of our Pay it Forward initiative .
In-store donations in need:
Baby toiletries
Tinned food
blankets
St Joseph's Home is accepting any other donations such as:
Standard single bed mattresses
Cot mattresses
Plastic storage boxes
Smart TV's
A standard sized fridge
Feeding chairs
Prams
Playmats
Cot mobiles
A 25kg Washing Machine
Food for 175 mentally fragile children
Donations of garden plants for their visitation area
Book your table with us Here you will be reminded to bring in any donations you wish to give to our special NGO! For more information/ to get in touch directly with St Jospeh's Home for your donation please email: Lesley@stjosephshome.org.za
More About St. Joseph's Intermediate Care
"With a Western Cape population of over 6.2 million, St. Joseph's is the only non-profit institution offering this service. Located in Montana, Cape Town, it serves severely vulnerable communities. It is St. Joseph's belief that no child should be left behind because of the circumstances they were born into, or their need for ongoing care after hospital. Children should also not be confined to a hospital environment longer than necessary.
The journey of a St. Joseph's child starts at a referral hospital or a community-based facility where they are treated for a chronic or life-limiting condition. If the child is not well enough to go home after their treatment, St. Joseph's is the transitional care facility, becoming their home until they have optimally recovered. The St. Joseph's staff work closely with the referral team to optimise the recovery process.
The child's needs are central to our thinking and practice. On average, a patient spends 6 months at St. Joseph's, receiving 24-hour nursing care, rehabilitation therapy and psycho-social support. All these services are provided free of charge.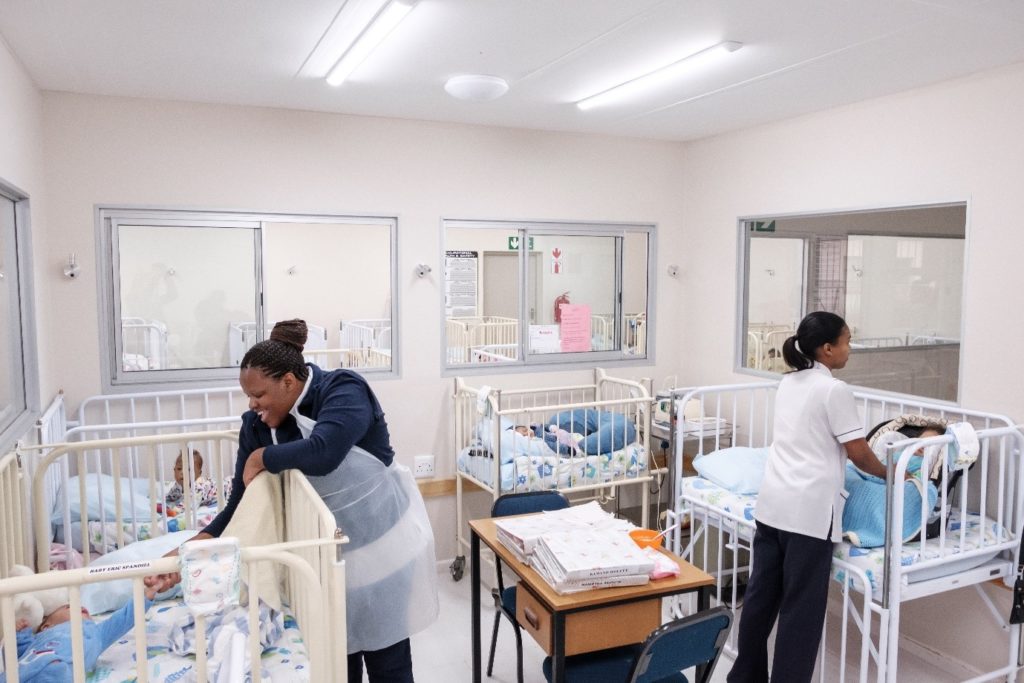 Image: Nurses and Care-takers standing by the chronically-ill children at St. Joseph's.
–This is the St Joseph's Approach – it's all about Homeostasis –
The St. Joseph's holistic approach includes nutritional, psycho-social, logistical, educational and spiritual support to facilitate the recovery process.
The empowerment and educating of parents helps them to understand their child's medical condition and improves medication adherence on discharge. At St. Joseph's we believe all children should be protected and feel safe. In 2021 the Child Protection Strategy was developed"
St Joseph's is hosting their own Mandela Day drive, for more details visit St Joseph's Mandela Day 2023 page on their website or click here.
"It always seems impossible until it's done."
And as always during this time of year, let's take a moment of silence to consider some of these powerful messages from Nelson Mandela:
"He who fears he will suffer, already suffers because he fears."
"Do not judge me by my successes, judge me by how many times I fell down and got back up again."
"Education is the most powerful weapon which you can use to change the world."
"One cannot be prepared for something while secretly believing it will not happen."
We appreciate you getting involved and being a part of our initiative. With love and care, Clay Café team